Overview
This document is a reference to the file format used in pbrt-v4, the version of the system corresponding to the forthcoming fourth edition of Physically Based Rendering; it serves as a comprehensive reference. The pbrt-v4 User's Guide documents how to use pbrt with more focus on how to achieve various tasks.
The scene description files used by pbrt are plain text files. The file format was designed so that it would be both easy to parse and easy for applications to generate from their own internal representations of scenes.
A pbrt scene file consists of a series of statements; different statements specify the geometry and light sources in the scene and set overall rendering parameters (such as which light transport algorithm to use or the image resolution). Each statement in these files corresponds directly to a pbrt API method defined in the ParserTarget class in pbrt-v4. (See also Appendix C in the fourth edition of the Physically Based Rendering book.) For example, when the WorldBegin statement appears in the input, an implementation of the ParserTarget::WorldBegin() method is called.
Differences from pbrt-v3
We have tried to minimize changes to the file format in order to make it as easy as possible to use existing scene description files with pbrt-v4. However, a number of changes were necessary for new functionality or changes in the system's implementation.
To make it easier to bring pbrt-v3 scenes to pbrt-v4, pbrt now provides an --upgrade command-line option:
$ pbrt --upgrade scene.pbrt > scene-v4.pbrt

In some cases, it may not be possible to upgrade
pbrt-v3
scenes automatically; pbrt will then issue an error indicating which part of the scene description requires manual attention.
Major changes to the scene description include:
Environment maps used for image-based lighting should now use Clarberg's equal-area mapping. pbrt's

imgtool

utility provides a

makeequiarea

operation that converts equirectangular environment maps (as used in pbrt-v3) to this parameterization.
The

WorldEnd

directive has been removed.

WorldBegin

is still used to separate rendering options from the scene specification but rendering then begins when the end of the input files is reached. This change means that multiple images can no longer be rendered from a single invocation of pbrt, though that feature was both rarely used and buggy.
The

TransformBegin

and

TransformEnd

directives have also been removed.

AttributeBegin

and

AttributeEnd

should be used instead. (In pbrt, they have nearly the same semantics.)
The parser has become more strict about types in parameter lists. For example,

"point P"

will now give an error;

"point3 P"

must be used instead. (Previously, both were allowed.)
The set of materials provided by pbrt is nearly all new and better reflects modes of physical scattering at surfaces. (Thus, for example, materials like "mirror" and "plastic" are no longer available, having been replaced with "conductor" and "coateddiffuse", which provide functionality that is a superset of those.)
Various parameter names have been changed to improve clarity or consistency. (For example, the

xwidth

parameter to various pixel reconstruction filters is now named

xradius

.) Refer to the the pbrt-v4 File Format documentation for further details.
The "image" Film is gone; use "rgb" instead.
The "fourier" material is no longer supported and has been replaced with "measured", which is based on a parameterization that better matches measured BRDF data.
Example of a pbrt file
Here is a short example of a pbrt input file: Between the start of the file and the WorldBegin statement, overall options for rendering the scene are specified, including the camera type and position, the sampler definition, and information about the image to be generated. After WorldBegin, the lights, geometry, and scattering volumes (if any) in the scene are defined.
cpLookAt 3 4 1.5  # eye
       .5 .5 0  # look at point
       0 0 1    # up vector
Camera "perspective" "float fov" 45

Sampler "halton" "integer pixelsamples" 128
Integrator "volpath"
Film "rgb" "string filename" "simple.png"
     "integer xresolution" [400] "integer yresolution" [400]

WorldBegin

# uniform blue-ish illumination from all directions
LightSource "infinite" "rgb L" [ .4 .45 .5 ]

# approximate the sun
LightSource "distant"  "point3 from" [ -30 40  100 ]
   "blackbody L" 3000 "float scale" 1.5

AttributeBegin
  Material "dielectric"
  Shape "sphere" "float radius" 1
AttributeEnd

AttributeBegin
  Texture "checks" "spectrum" "checkerboard"
          "float uscale" [16] "float vscale" [16]
          "rgb tex1" [.1 .1 .1] "rgb tex2" [.8 .8 .8]
  Material "diffuse" "texture reflectance" "checks"
  Translate 0 0 -1
  Shape "bilinearmesh"
      "point3 P" [ -20 -20 0   20 -20 0   -20 20 0   20 20 0 ]
      "point2 uv" [ 0 0   1 0    1 1   0 1 ]
AttributeEnd

When this input file is rendered with pbrt-v4, this image is generated: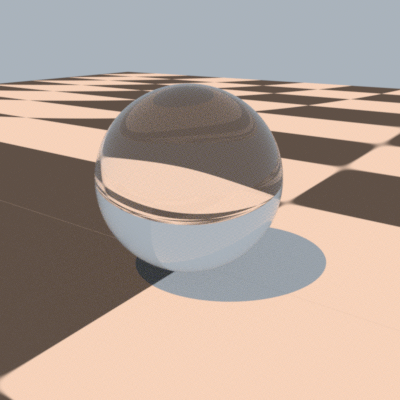 General structure of a pbrt input file
A scene description file starts with a series of directives that describe the camera, film, and sampling and light transport algorithms to use in rendering the scene. These are followed by the WorldBegin directive; after WorldBegin, the world definition block starts, and it is no longer legal to specify different definitions of any of the objects defined in the initial section of the file. However, lights, materials, textures, and shapes, can be defined inside the world block (and can only be defined inside the world block). Participating media can be specified before or after WorldBegin, as it can be associated with cameras, lights, and shapes.
The following section, Scene-wide rendering options, documents the directives that are valid outside of the world definition block. The subsequent section, Describing the scene, documents the directives for defining the shapes, materials, lights, etc., that define the scene.
When there is nothing left to parse, rendering begins. At this point, the Integrator defined takes control and performs the required rendering computation.
The hash character # denotes that the rest of the line is a comment and should be ignored by the parser.
Some of the statements in the input file, such as WorldBegin, AttributeEnd, and so on, have no additional arguments. Others, such as those related to specifying transformations, such as Rotate and LookAt, take a predetermined number of arguments of predetermined type. (For example, Translate is followed by three floating-point values that give the x, y, and z components of the translation vector.) The remainder of the statements take a variable number of arguments and are of the form:
identifier "type" parameter-list
For example, the Shape identifier describes a shape to be added to the scene, where the type of shape to create is given by a string (e.g. "sphere") and is followed a list of shape-specific parameters that define the shape. For example,
Shape "sphere" "float radius" [5]

defines a sphere of radius 5. (See Shapes for documentation of the parameters taken by the various shapes implemented in pbrt.)
For these statements, the "type" string gives the name of the particular shape, light., etc., and parameter-list gives the parameters to pass to the implementation. With this design, pbrt's parser doesn't need to know anything about the semantics of the parameters; it just needs to know how to parse parameter lists and store the parameter names and values that it finds in a structure for later processing.
Parameter Lists
Variable-length lists of named parameters and their values are the key meeting ground between the parsing system and the objects that are created to represent the scene. Each of these lists holds an arbitrary number of name/value pairs, with the name in quotation marks and the value or values in square brackets (if there is only a single value, the brackets are optional):
"type name"

[

value or values

]
For example,
"float fov" [30]

specifies a parameter "fov" that is a single floating-point value, with value 30.
Alternatively,
"float cropwindow" [0 .5 0 .25]

specifies that "cropwindow" is a floating-point array with the given four values.
The type of each parameter must always be given along with its name; pbrt has no built-in knowledge of any parameter names. This simplifies the parsing system, although it does create a small burden for the creator of the input file.
pbrt supports eleven parameter types: integer, float, point2, vector2, point3, vector3, normal3, spectrum, rgb, blackbody, bool, and string.
The point2 and vector2 types take two floating-point values to specify each value (and similarly for their 3D equivalents). string parameters must be inside quotation marks, and bool parameters are set with the values true and false, quotation marks included.
"string filename" "foo.exr"
"point origin" [ 0 1 2 ]
"normal N" [ 0 1 0  0 0 1 ] # array of 2 normal values
"bool renderquickly" true

pbrt provides three different ways of specifying spectral values in scene description files. RGB values are commonly used, though see the discussion in Section 5.2.2 on page 325 of the third edition of "Physically Based Rendering" for discussion of the shortcomings of this representation. RGB color values can be specified with the rgb type. (They are interpreted as being with respect to the current RGB color space, which can be specified using the ColorSpace directive, which is described below):
"rgb reflectance" [ .2 .5 .3 ]

specifies the RGB color with red equal to 0.2 and so forth.
Alternatively, a normalized blackbody spectral distribution with maximum value of 1 can be specified using blackbody.
"blackbody emission" 6500

General spectral distributions can be specified with a series of (wavelength, value) pairs, where wavelengths are specified in nm:
"spectrum reflectance" [ 300 .3  400 .6   410 .65  415 .8  500 .2  600 .1 ]

specifies a piecewise-linear SPD with a value of 0.3 at 300nm, 0.6 and 400nm, and so forth. Since complex sampled SPDs may have many values, they can also be provided using a file on disk:
"spectrum reflectance" "filename"

Where the filename specifies the path to a plain text file with pairs of floating-point (wavelength, value) as above. The parser for these files allows uses # to denote a comment that goes to the end of the current line.
A number of useful spectral distributions are built in to pbrt; if the following names are provided as string values to spectrum parameters, the corresponding spectral distribution is used:
| String | Description |
| --- | --- |
| "glass-BK7" | Index of refraction for BK7 glass |
Transformations
A series of directives modify the current transformation matrix (CTM). When the scene's camera is specified with a Camera directive, the CTM defines the world to camera transformation; when a light or shape is created, the CTM specifies the transformation from object space to world space.
When parsing begins, the CTM is the identity transformation; furthermore, it is is reset to the identity when the WorldBegin directive is encountered. The following directives modify the CTM:
Input File Syntax
Identity
Translate
x y z
Scale
x y z
Rotate
angle x y z
LookAt
eye_x eye_y eye_z look_x look_y look_z up_x up_y up_z
CoordinateSystem

"name"
CoordSysTransform

"name"
Transform
m00 ... m33
ConcatTransform
m00 .. m33
For example, Translate takes three floating-point values, x, y, and z, and cause the CTM to be set it to its product of with the matrix representing the given translation. An arbitrary transformation to multiply the CTM with can be specified using ConcatTransform; alternatively, Transform resets the CTM to the specified matrix.
A name can be associated with the CTM using the CoordinateSystem directive. In turn, the CTM can later be reset to the recorded transformation using CoordSysTransform. pbrt automatically records the camera transformation matrix in the "camera" named coordinate system; this can be useful for placing light sources with respect to the camera, for example.
pbrt supports animated transformations by allowing two transformation matrices to be specified at different times. The TransformTimes directive, which must be outside of the world definition block, defines these two times with floating-point values:
TransformTimes

start end
Then, the ActiveTransform directive indicates whether subsequent directives that modify the CTM should apply to the transformation at the starting time, the transformation at the ending time, or both. The default is that both matrices should be updated:
Translate 1 0 0  # applies to both, by default
ActiveTransform StartTime
Rotate 90 1 0 0
ActiveTransform EndTime
Rotate 120 0 1 0
ActiveTransform All

Including Files
Two statements make it possible to specify other files to be parsed. The first of them is Include, which behaves similarly to the #include directive in C++, in that parsing of the current file is suspended; the specified file is parsed in its entirety; and only then does parsing of the current file resume. Its effect is equivalent to direct text substitution of the included file.
Include "geometry/car.pbrt"

The Import directive can also be used to specify a file to be parsed. It is similar to Include in that it takes a single filename argument, but its semantics are that the definitions of any named objects—object instances, named textures, named materials, or named participating media—are not made available in the initial file after the Import statement. Thus, Import does not correspond to direct text substitution. In return for this restriction, it is possible to parse imported files in parallel; judicious use of Import can thus significantly improve pbrt's startup time when rendering complex scenes.
Import "geometry/complex-car.pbrt"

If the filename given to a Include or Import statement is not an absolute path, its path is interpreted as being relative to the directory of the initial file being parsed as specified with pbrt's command-line arguments.
Scene-wide rendering options
This section describes rendering options that must be specified before the WorldBegin statement.
General Options
A number of general options that control rendering can be specified using the Option directive. Many of these can also be specified via command-line arguments.
Option "bool" "pixelstats" true

| Option | Default Value | Description |
| --- | --- | --- |
| bool disablepixeljitter | false | Forces all pixel samples to be through the center of the pixel area. Enabling this can be useful when computing reference images and then computing error with respect to them in that it eliminates differences due to geometric sampling that may not be of interest. |
| bool disabletexturefiltering | false | Forces point sampling at the finest MIP level for all texture lookups. (Rarely useful.) |
| bool disablewavelengthjitter | false | Forces all samples within each pixel to sample the same wavelengths. RGB will generally have objectionable color error but this can also be useful when computing error with respect to reference images when error due to random wavelength sampling shouldn't be included. |
| float displacementedgescale | 1 | Global scale factor applied to triangle edge lengths before evaluating the edge length test for refinement when applying displacement mapping. Increasing this value will generally reduce memory use and startup time when rendering scenes with displacement mapping. |
| string msereferenceimage | (none) | Specifies the filename of an image to use when computing mean squared error versus the number of pixel samples taken (see "msereferenceout" below). |
| string msereferenceout | (none) | Filename for per-sample mean squared error results. When both this and "msereferenceimage" are specified, the mean squared error of the current image and the reference image is comptued after each sample is taken and the results are stored in text format in this file. |
| string rendercoordsys (camera, cameraworld, world) | "cameraworld" | Specifies the coordinate system to use for rendering computation. The default, "cameraworld" translates the scene so that the camera is at the origin. "camera" uses camera space (performance may suffer due to the scene being rotated) and "world" uses world space (accuracy may suffer due to floating-point precision). |
| integer seed | 0 | Seed to use for pseudo-random number generation during rendering. Rendering a scene with different seed values will give independent results, which can be useful for statistical analysis. |
| bool forcediffuse | | |
| bool pixelstats | | |
| bool wavefront | | |